One Piece Card Game Regional - Milan
Regional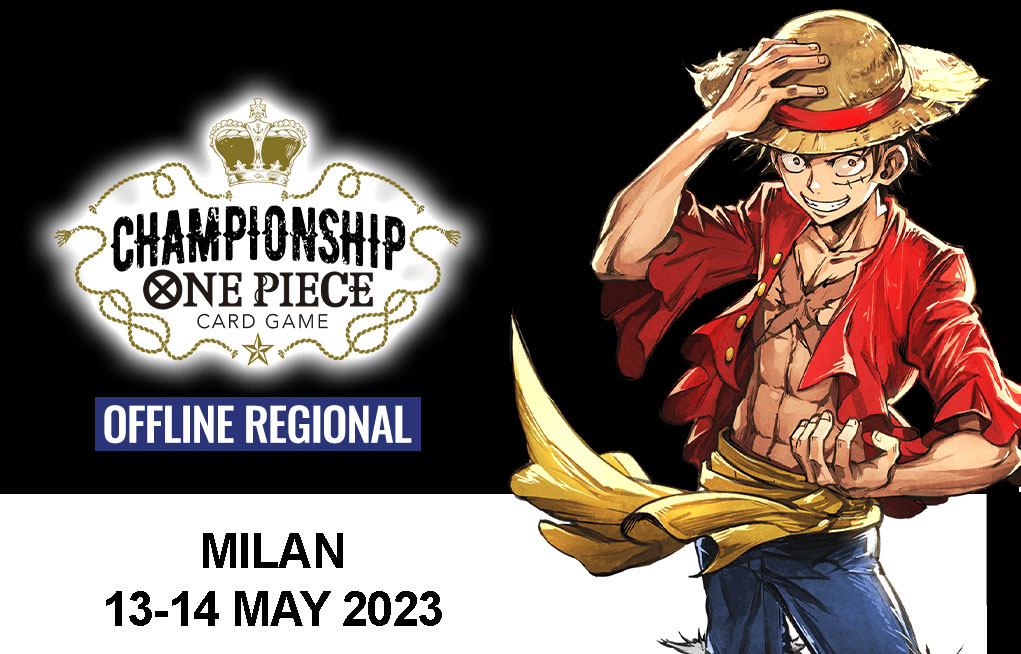 Take Part in One Piece Card Game Regional - Milan to Win Amazing Exclusive Prizes!
Event Type:
ONE PIECE REGIONAL (TOURNAMENT LEVEL 4)
The One Piece Card Game Regional - Milan is a competitive event, open to all One Piece Card Game players.
Format:
Constructed
Location:
To participate in this event, each participant must be equipped with:
- a tournament legal One Piece Card Game deck;
- a smartphone connected to the internet with the play-system.eu app installed;
Registration: Online Registration Mandatory with Instant Payment ("ISCRIVITI" button on top of this page)
Registration will start from 17th March at 12:30 p.m. (CET)


Information and Schedule:
Event is structured in 2 days, as follows.

Day 1 - Saturday, 13th May 2023
11:15 a.m. >>> Player Briefing and Tournament Start
During Day 1, there will a number of Swiss Rounds based on the total number of participants.
Each Swiss Round lasts 35 minutes with Best of One Matches.
At the end of Day 1, top 16 players will advance to a Single Elimination Playoff taking part in Day 2.
Day 2 - Sunday 14th May 2023
10:30 a.m. >>> TOP 16 Single Elimination Playoff Start
Each Playoff Round lasts 60 minutes with Best of Three Matches
Deck List Required
You will need to have the Play ID and use the Deckbuilder from the Player Area of the site onepiece-cardgame.it or the deckbuilder of the app Play-system.eu (available in the Android and IoS store) to create and submit your list before the tournament starts.
In case you don't have a Play ID, you can create it by clicking HERE.
Entry Fee and Participation Prize:
- Entry Fee: 35,00 € (Includes 1x Regional Storage, 1x Don!! Sleeve, 1x Gold Don!! Card, 1x Offline Regional Participation Pack Vol.1, 1x DON!! Card Pack Vol.2, 1x Event Pack Vol.1)*
Registration also includes free pass to the Milano Comics and Games Fair.
*Physical Participation in the event is mandatory in order to receive the participation prize.
A player who does not show up at the event will not receive the participation prize but will receive a partial refund net of Paypal commissions.
Furthermore, once purchased, each ticket is personal and cannot

be transferred to anyone else.


Prizes
TOP 128: 1x Event Pack Vol.1, 1x Sleeve -Nami-(10)
TOP 64: 1x Gold Don!! Card
TOP 32: 1x Offline Regional 2023 Finalist Card Set, 1x Finalist Playmat, 1x Gold Don!! Card
TOP 8: 1x ST01-001 Monkey.D.Luffy Serial Number Card
2nd Place: 10x Gold Don!! Card
1st Place: 1x Offline Regional 2023 Champion Card Set, 1x Champion Playmat, 10x Gold Don!! Card, 1x Booster Box (OP-02)
Don!! Sleeve

Sleeve -Nami- (10 pcs)

Regional Storage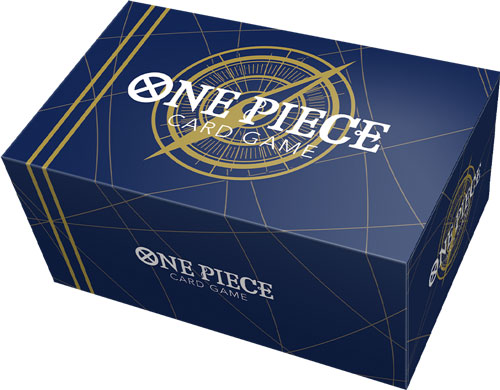 Gold Don!! Card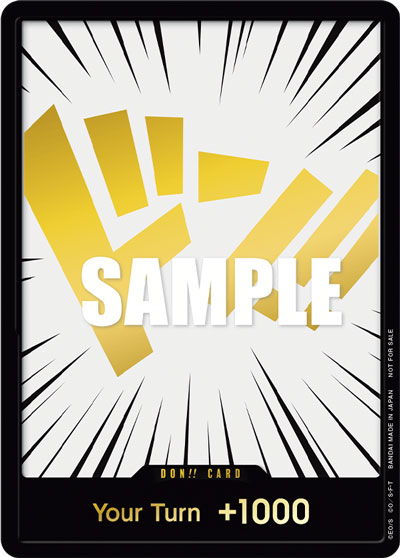 DON!! Card Pack Vol.2 (1 card per pack)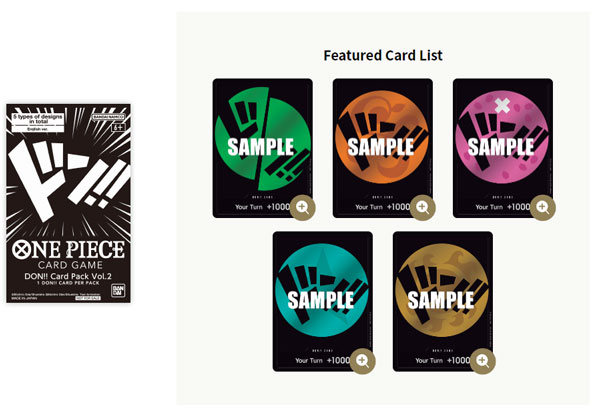 Event Pack Vol.1 (1 card per pack)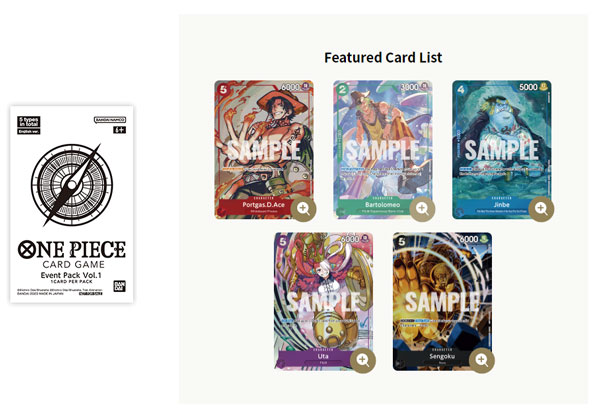 Offline Regional Participation Pack Vol.1 (1 card per pack)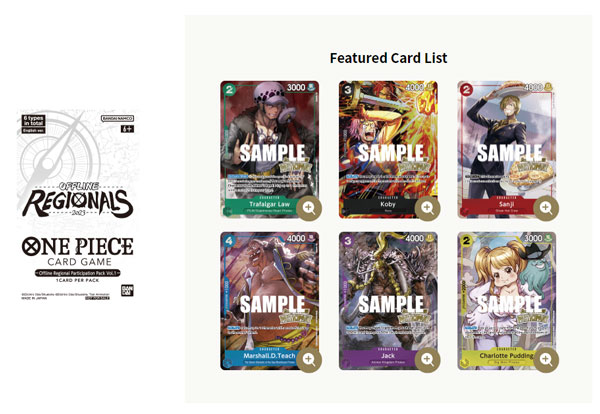 Finalist Playmat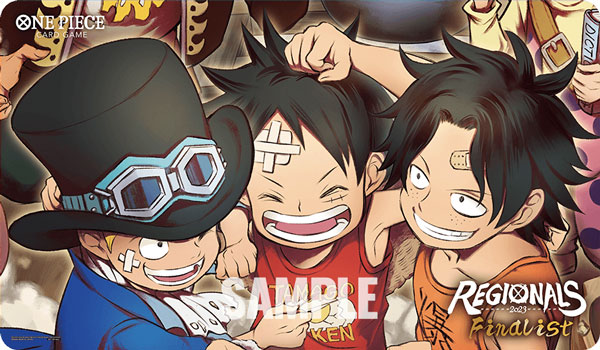 Offline Regional 2023 Finalist Card Set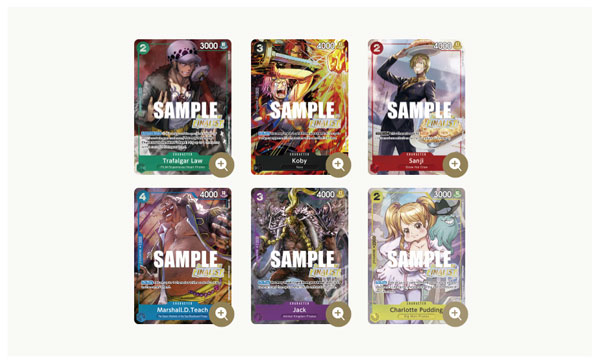 Champion Playmat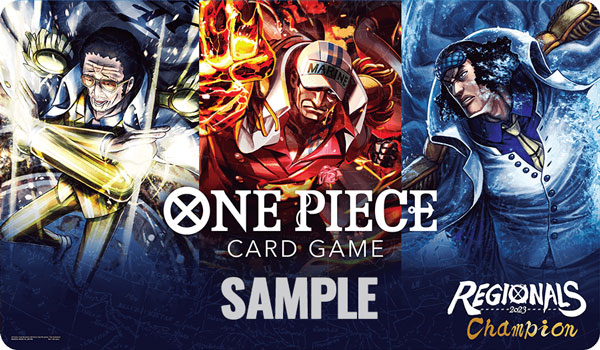 Offline Regional 2023 Champion Card Set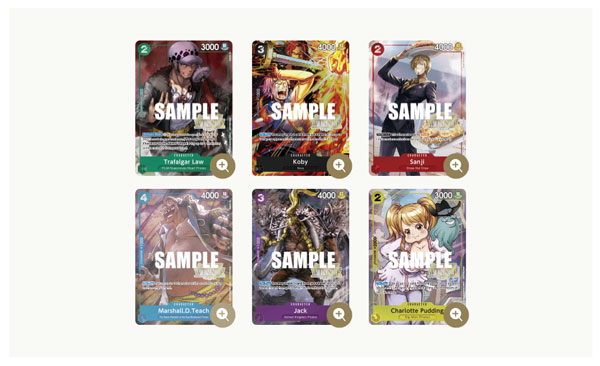 ST01-001 Monkey.D.Luffy Serial Number Card

Booster Box(OP-02) provided by TO